Happy Editing™
Unlock your creative power with the ultimate video editing masterclass and community!
---
Happy Editing equips you with all the knowledge and time-saving tools you need to become a video editing master and increase your earnings as a creator.
COMPATIBLE WITH: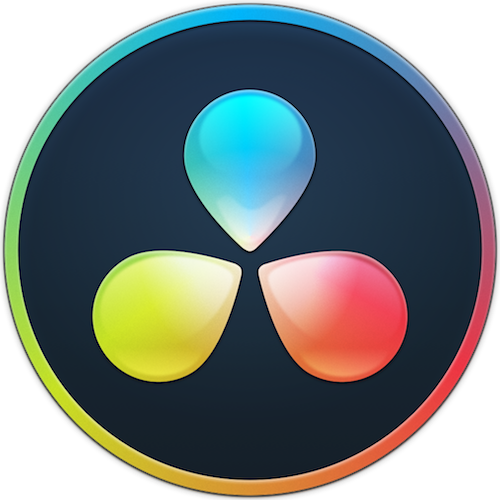 UNLOCK
→ 75+ Lessons
→ VIP Community Access
→ Includes the EZCO Toolbox™

→ Lifetime Access and Updates
LESSONS INCLUDE
Analog CRT Workflow
Project Breakdowns
Top 11 Free Effects
Pro Mindset Masterclass
Genre Breakdowns
and more...
HAPPY EDITING
01 MASTERCLASS
THE HAPPY EDITING DIFFERENCE
We've gone way beyond typical tutorials to break down not only the how but the why behind great editing - giving you insight into our vintage CRT workflow, mindset lessons, project breakdowns, and more!
Every trick and mindset shift. Every shortcut we have... it's all yours! And of course we'll load you up with all the technical stuff like our favorite effects, essential keyboard shortcuts, and much more.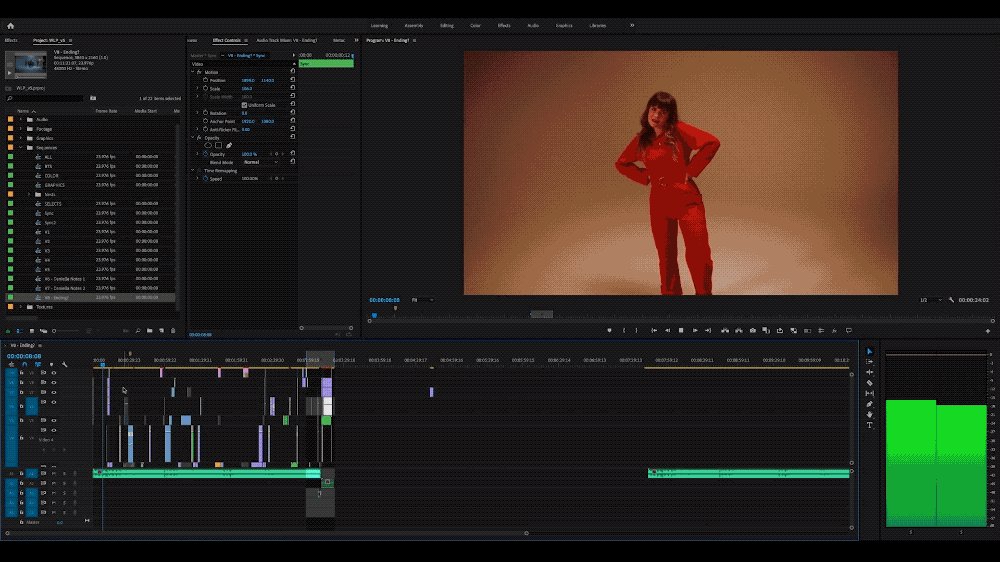 02 ASSETS
INCLUDES THE EZCO TOOLBOX™
Unlock the same time-saving assets we use to transform our projects every day.
The EZCO Toolbox™ covers every step of the editing process to help you transform your projects from zero to hero with 100+ essential color, texture, graphic, audio, and transition files!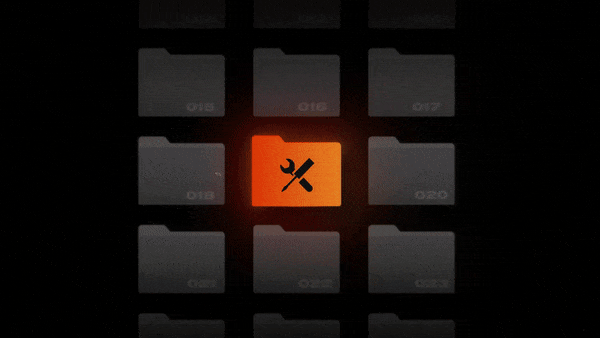 03 COMMUNITY
CONTINUED LEARNING AND FEEDBACK
Join our VIP community of editors and get feedback on your projects and questions! One of the best ways to continue growing daily.
You'll also get access to free new EZCO asset releases, exclusive lessons, and more. One of the most valuable parts of Happy Editing™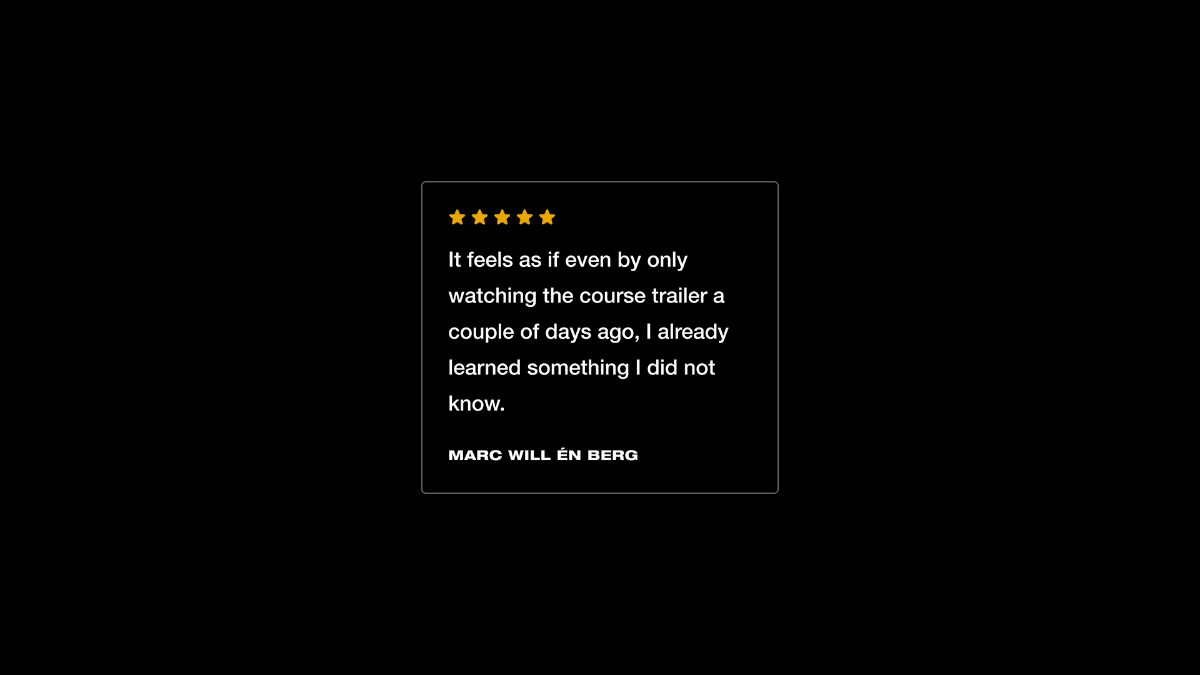 DETAILS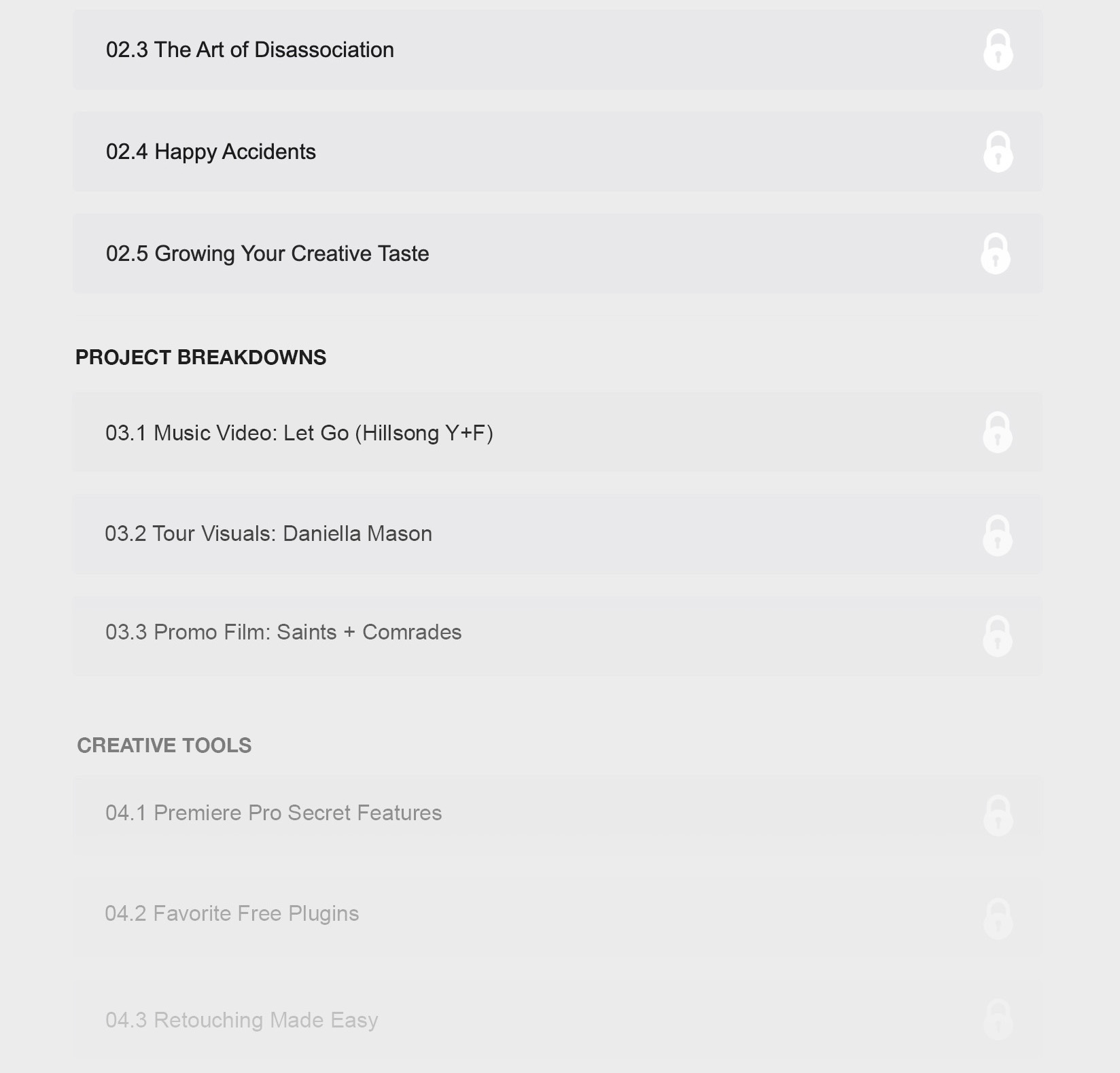 YOU'LL LEARN
+ How to Make 6 Figures as an Editor
+ Growing Your Creative Taste
+ Pro Editor Mindset
+ Genre Breakdown 101
+ Balancing the Client, Craft, and Crowd
+ Case Studies: Edit Breakdowns
+ Essential Keyboard Shortcuts
+ Top 11 Free Premiere Pro Effects
+ Best Fonts in 2022
+ VFX in Premiere Pro
+ Retouching in Premiere Pro
+ Best Export Settings
+ 3D Space + Lighting in After Effects
+ Advanced Analogue CRT Gear
+ Tour Visuals Master
+ 3D Photo Master
+ EZCO Toolbox™

+ and much more...
WHAT'S INCLUDED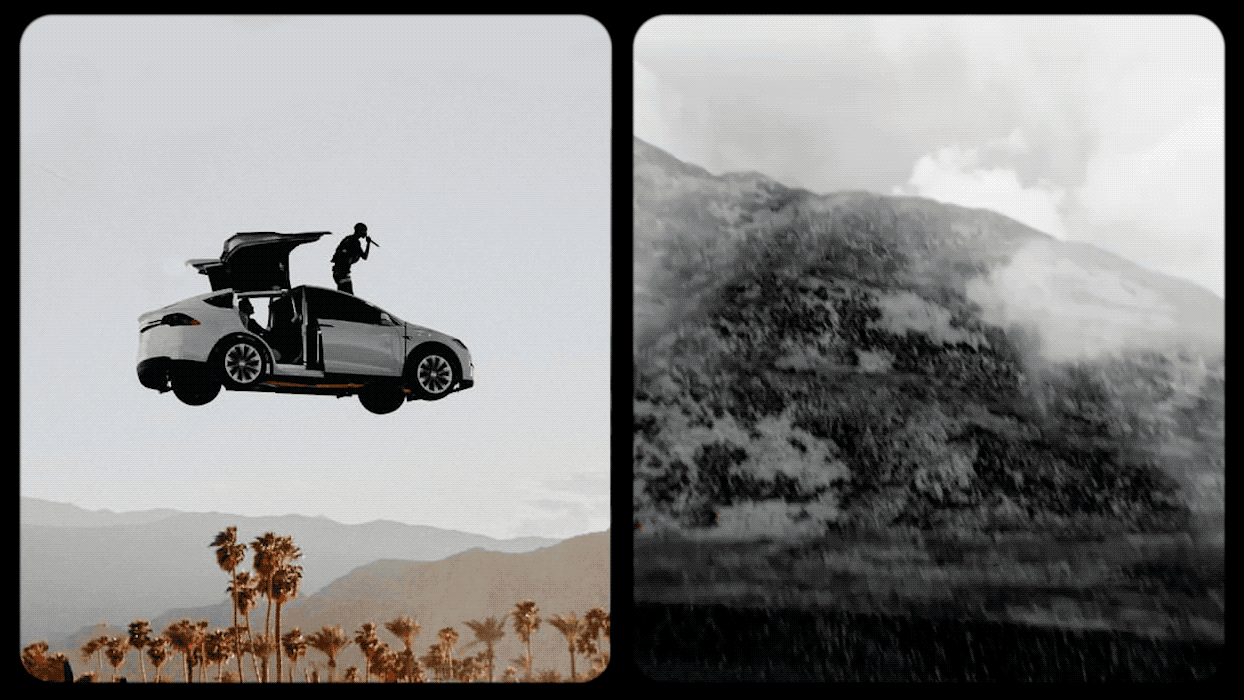 3D PHOTO MASTER
Bring your images to life in 3D space with tour photographer and filmmaker Spencer Miller.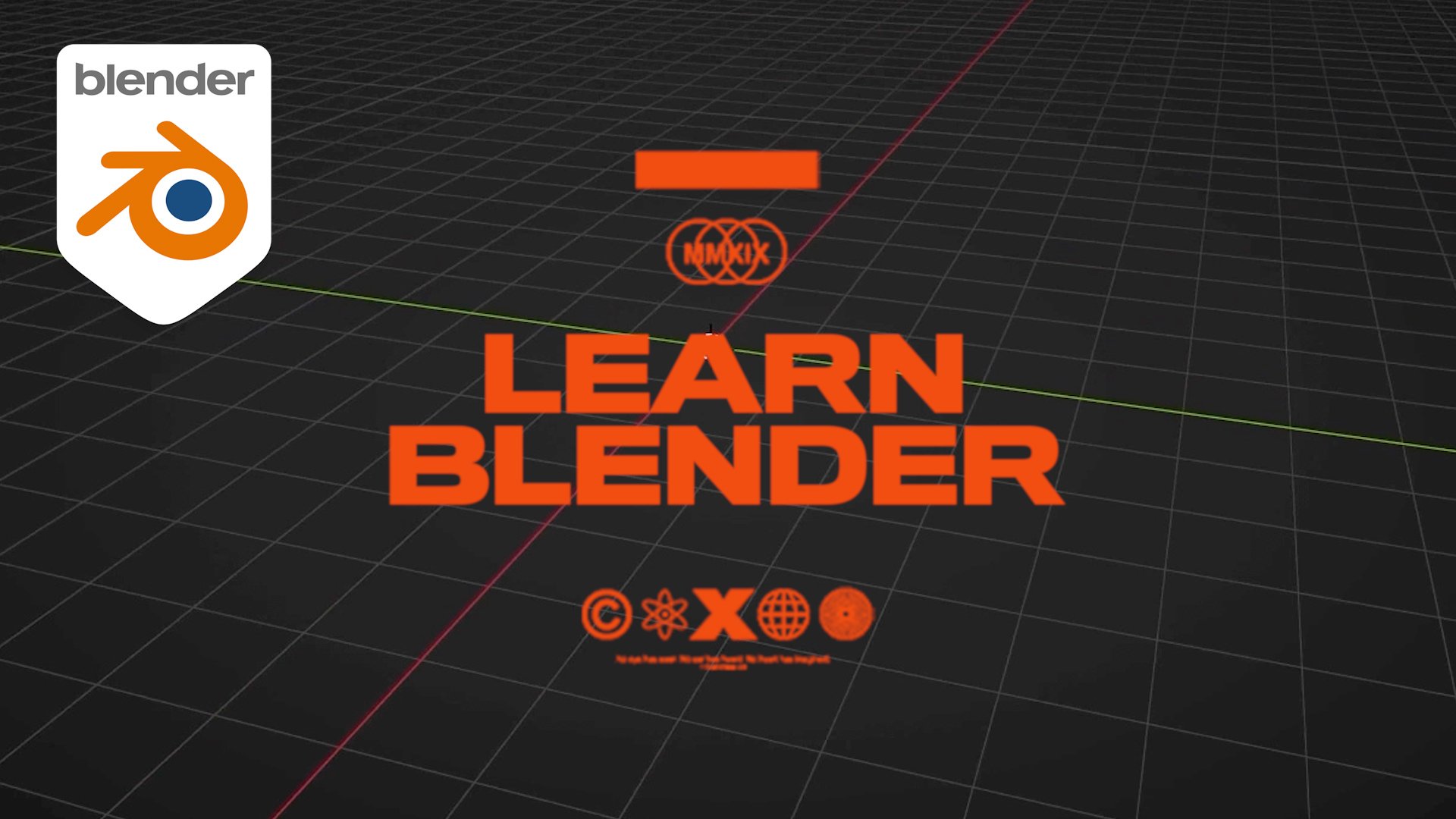 BLENDER 3D MASTER
Learn the art of 3D animation in the FREE software Blender with Ducky 3D.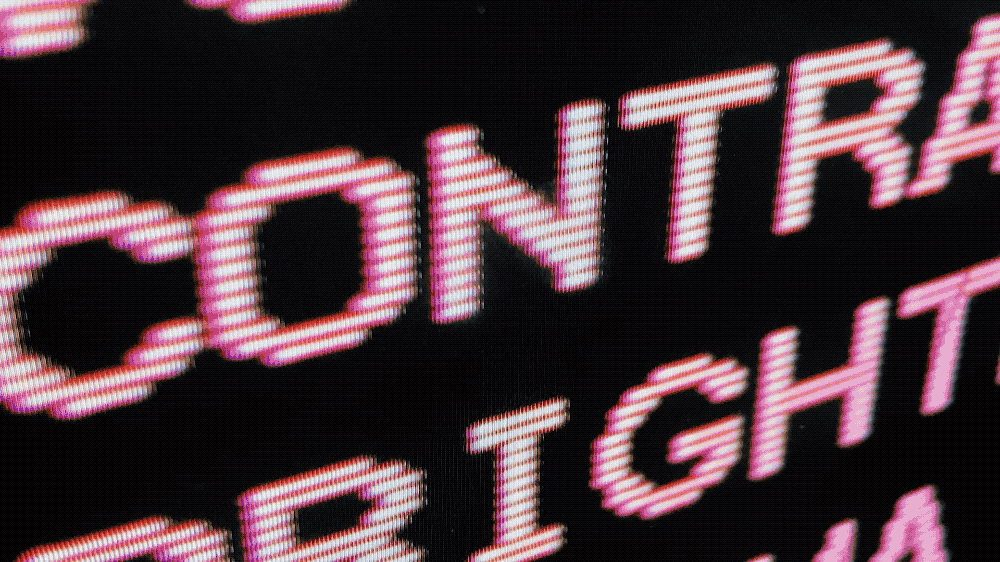 TOUR VISUALS MASTER
Learn how to create stunning tour visuals for arena concerts and indie shoots alike.

75+ LESSONS
Dive way beyond the "how" into the "why" behind what makes a great edit. These are not your typical Youtube tutorials!

FREE DOWNLOADS
Donload our all new EZCO Toolbox™ for free to help you start building your asset library!

VIP COMMUNITY
Gain access to a VIP community of pro editors - easily one of the most valuable parts of Happy Editing with 1000+ students and counting.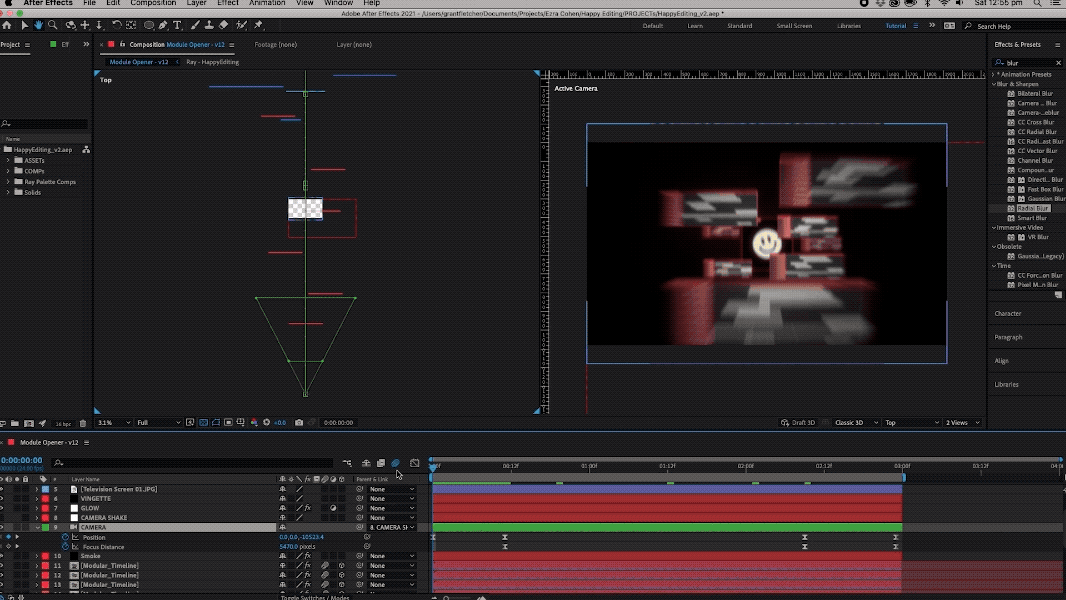 AFTER EFFECTS
Learn all the essential After Effects tricks every editor should know from teacher Grant M. Fletcher.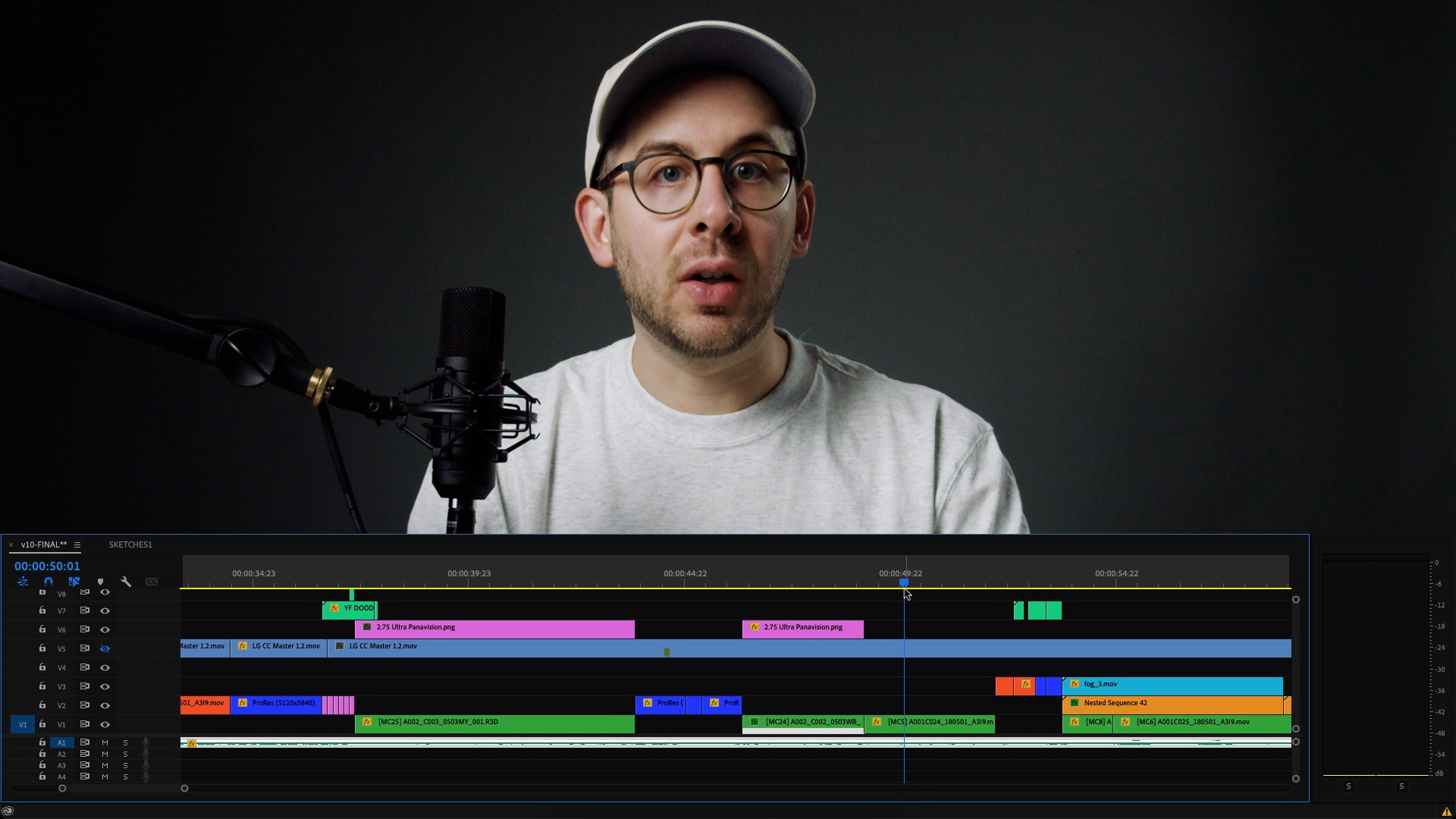 PRO MINDSET
Learn the mindsets that separate beginner video editors from the pros and give yourself a raise.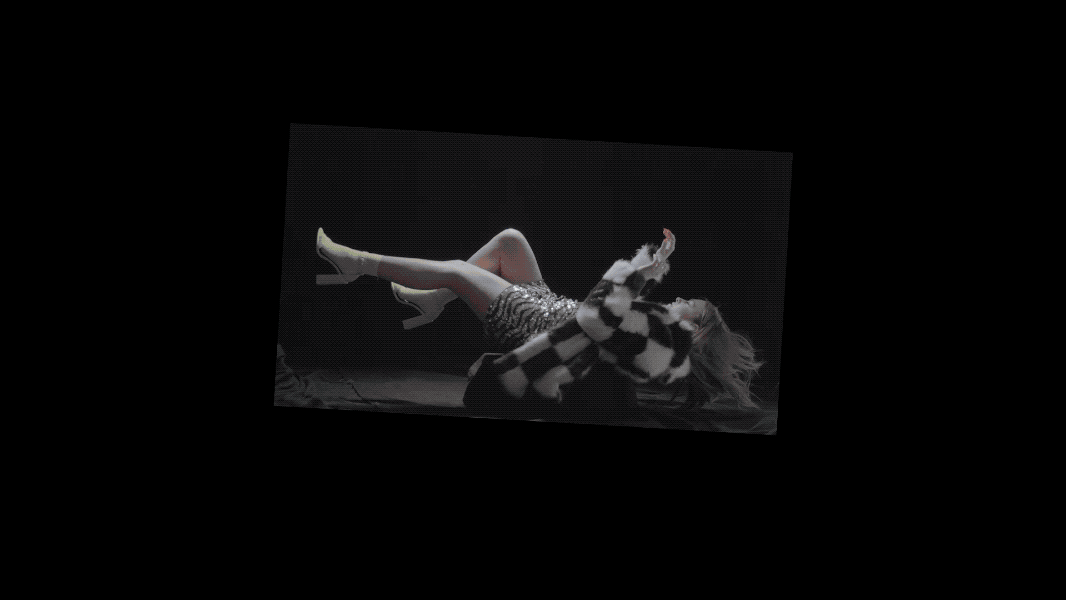 + MUCH MORE
You'll learn everything from time-saving workflow hacks to keyboard shortcuts and everything in between.

CREATIVE TOOLS
Steal all our tricks and quickly take you step up your projects with any budget. Our 30+ years of experience will help you level up fast.

PROJECT FEEDBACK
Get feedback and constructive criticism on your work. Get hands on experience and learn as you work on your own projects.

LIFETIME ACCESS
Unlock all future editing lessons for free when you join. We're working on some crazy new material we guarantee you won't find anywhere else...
RESOURCES


GET A TASTE
PREVIEW LESSONS FOR FREE
Happy Ediitng features over 40+ advanced creative lessons. Here's a free sample to let you peek inside the course...





100+ TIME-SAVING
ASSETS INCLUDED WITH HAPPY EDITING
As a member of Happy Editing you'll also get access to some of our most prized time-saving editing assets with the all new EZCO Toolbox™.
Get a taste of some of the assets inside including 100+ essential assets for Color, Texture, Graphics, Audio, and Transitions!
ABOUT
YOUR INSTRUCTORS
With 30+ years combined experience, Ezra Cohen and the EZCO team are no strangers to the edit bay.
Clients include Sony, Ellie Goulding, The Chainsmokers, Billie Eilish, Disney, Billboard, and more. Plus digital products used by Adidas, The Weeknd, Nike, Lincoln, Justin Bieber, Tik-Tok, and more.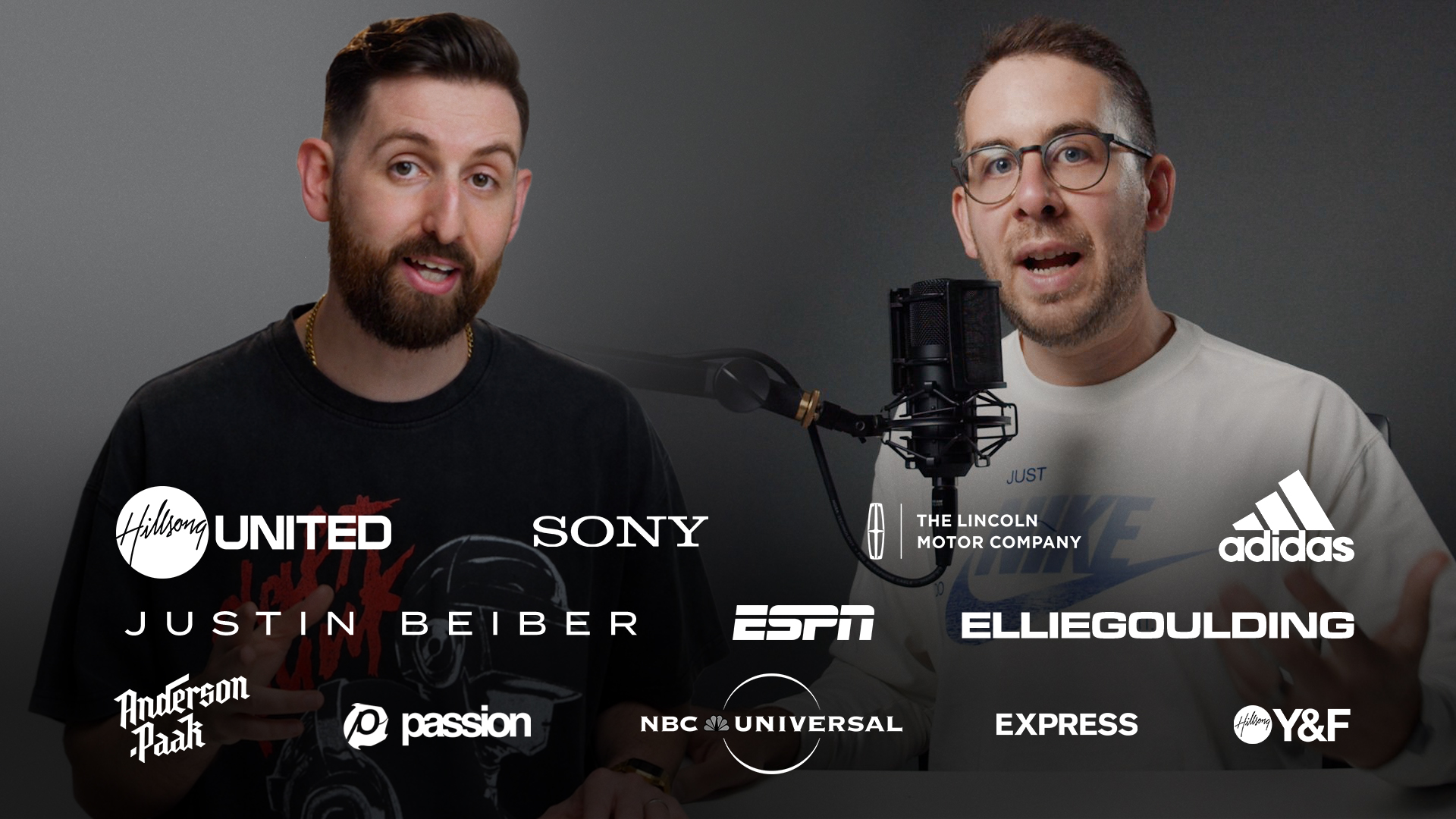 FAQ
What lessons are included in the course?
We're adding new lessons on a regular basis. But as of right now, here's all the lessons available in the masterclass!
INTRODUCTION
Intro - Start Here
MEMBERS ONLY
Members Only: Happy Editing Members FB Group
Members Only: EZCO Toolbox™ Download
Members Only: EZCO 50% Discount
Members Only: Spotify Playlist
Members Only: Musicbed Playlist
Members Only: Inspiration Playlist
MINDSET
Mindset: "It's Pretty But I Don't Feel Anything"
Mindset: The Craft, the Client, and the Crowd
Mindset: The Art of Disassociation
Mindset: Happy Accidents
Mindset: Growing Your Creative Taste
Mindset: The Hook Factor
PROJECT BREAKDOWNS
Hillsong Y&F: Let Go Music Video
TBCO: Saints & Comrades Promo
Daniella Mason: Concert Visuals
Sam Taylor: No Mileage Lyric Video
EZCO: Stairway to Heaven Production BTS
TECHNICAL TOOLS
Technical: Premiere Pro Secret Features
Technical: Essential Keyboard Shortcuts
CREATIVE TOOLS
Creative: Top 11 Free Premiere Pro Effects
Creative: Blending Modes Explained in 60 Seconds
Creative: VFX Tricks with Masking
Creative: Top Free Fonts
Creative: Retouching Made Easy
Creative: Multicam Sequences
Creative: Color Grading 101
Creative: Overlays 101
AFTER EFFECTS
AE: What Only After Effects Can Do
AE: 3D Space, Cameras, and Lighting
AE: Alpha Channel + Track Mattes
AE: Intro to Expressions
AE: AE Project Quickstart
WORKFLOW
Workflow: New Project Workflow
Workflow: Using Proxies to Edit Large Files
Workflow: The "Selects" Method
Workflow: The Best 2 Export Settings
GENRE BREAKDOWNS
Genre Breakdown 101
Abstract Fashion Film
Tour Visuals
30s Commercial
Final: Abstract Fashion Video
Final: 30s Commercial
BUSINESS + RELATIONSHIPS
Business: How I Make 6 Figures as a Video Editor
Business: How Much Should I Charge?
Business: Sending Estimates + Tracking Time
Business: Pay Follows Passion
Business: Staff vs Freelance
CRT MASTER
CRT Master: Choosing a CRT Monitor
CRT Master: Capture Workflow
CRT Master: Editing Workflow
CRT Emulator
CRT Emulator Tutorial
3D PHOTO MASTER
3D Photo Master: Intro
3D Photo Master: Selecting a Photo
3D Photo Master: Photoshop Masking
3D Photo Master: After Effects Construction
3D Photo Master: Camera Movement
3D Photo Master: Additional Elements
3D Photo Master: Text & Details
3D Photo Master: Puppet Tool
3D Photo Master: Crowds
3D Photo Master: Keyframe Graphs
TOUR VISUALS MASTER
Tour Visuals Master: Download Tour Visual Elements
Tour Visuals Master: Introduction
Tour Visuals Master: Theory
Tour Visuals Master: Toolbelt
Tour Visuals Master: Intro to Custom Visuals in AE
Tour Visuals Master: Retro Grid in AE
Tour Visuals Master: Starscape in AE
Tour Visuals Master: Creating Seamless Loops
Tour Visuals Master: Odd-Shaped LED Walls
Tour Visuals Master: Resolume Arena + Timecode Syncing
Tour Visuals Master: Concert Visuals Project Breakdown
Tour Visuals Master: Bonus - Consumer Projector Shootout
Can't I just learn this stuff on Youtube for free?
Youtube can be great for helping you learn specific "how" tricks.
But it's only when you start to understand on the "WHY" of a great edit that things start to change. Happy Editing teaches you how to think like a creative director, attract larger clients, and charge more for your work.

(And save you hundreds of hours wasting time watching videos that get you nowhere)
Who is this course for?
If you're just getting started, you'll be learning the right way and save yourself from years of tiime-wasting mistakes.

And if you're already a pro, I can guarantee you'll walk away with valuable perspective shifts that will help you land bigger clients and work smarter, not just harder.
What software do I need?
Our weapons of choice are Adobe Premiere and After Effects. BUT the principles cover any and all editing softwares whether it be Davinci Resolve, Final Cut Pro, or anything else.
Feel free to follow along in any software you choose. You can download Davinci Resolve for free!
Who are the teachers?
With over 40 years combined experience, Ezra Cohen, Grant Fletcher, Fredpelle, Spencer Miller, and Ducky3D are no strangers to the edit bay.
Clients include Sony, Ellie Goulding, Hillsong and more. Plus digital products used by Adidas, Justin Bieber, Tik Tok, The Weeknd, Nike, Justin Bieber, and more.
Can I get feedback on my projects?
One of the most valuable parts of joining Happy Editing is the private community.
Students post their work on a regular basis and get real constructive feedback from Ezra and the EZCO team. You'll receive notes tailored specifically to your projects to help you learn in real time.