LIFETIME ACCESS TO THE ULTIMATE VIDEO EDITING MEMBERSHIP
MASTERCLASS → ASSETS → COMMUNITY
Regular price
Happy Editing Lifetime Access
Get lifetime access to advanced lessons, time-saving digital assets, and a VIP community of editors.
Your videos are only as good as your edit. Happy Editing takes you way beyond basic tutorials and equips you with everything you need to become a video editing master.
HAPPY EDITING
HAPPY EDITING
INVEST IN YOUR HEAD

You can invest in all the latest gear... spend hours studying how to get the perfect shots... But if you don't know how to take it all across the finish line in the edit, does any of it really matter?

Invest in your knowledge and as an editor, and watch your investment pay off. We're committed to helping you unlock the next level of your film career or your money back!
BONUS OFFER
THE MASTER BUNDLE

For a limited time, we're giving away our 4K Master Bundle for FREE when you join Happy Editing ($1,200 VALUE)!

This exclusive bonus will be added to your customer account automatically as our way of saying welcome to the club!
WHAT'S INCLUDED

ADVANCED LESSONS
These aren't your typical Youtube tutorials. We'll cover everything from mindset shifts to technical & creative tools, business development and more.

50% OFF
Get all our time-saving igital asset packs for 50% OFF as long as you're a member - letting you quickly shortcut the editing process.

VIP COMMUNITY
Get real-time feedback on your projects. enter exclusive competitions, score members-only assets, and more! One of the best parts of Happy Editing.
ALL UPDATES
We're adding more modules on a regular basis. But more importantly we want to hear from our members what will help them the most.
DOWNLOADS
We are making practice footage available so your can put your new skills to the test.
MONTHLY LIVE Q+A
Get up to date information on all the latest. These interactive sessions are designed to allow you to get your burning questions answered.
COURSE DETAILS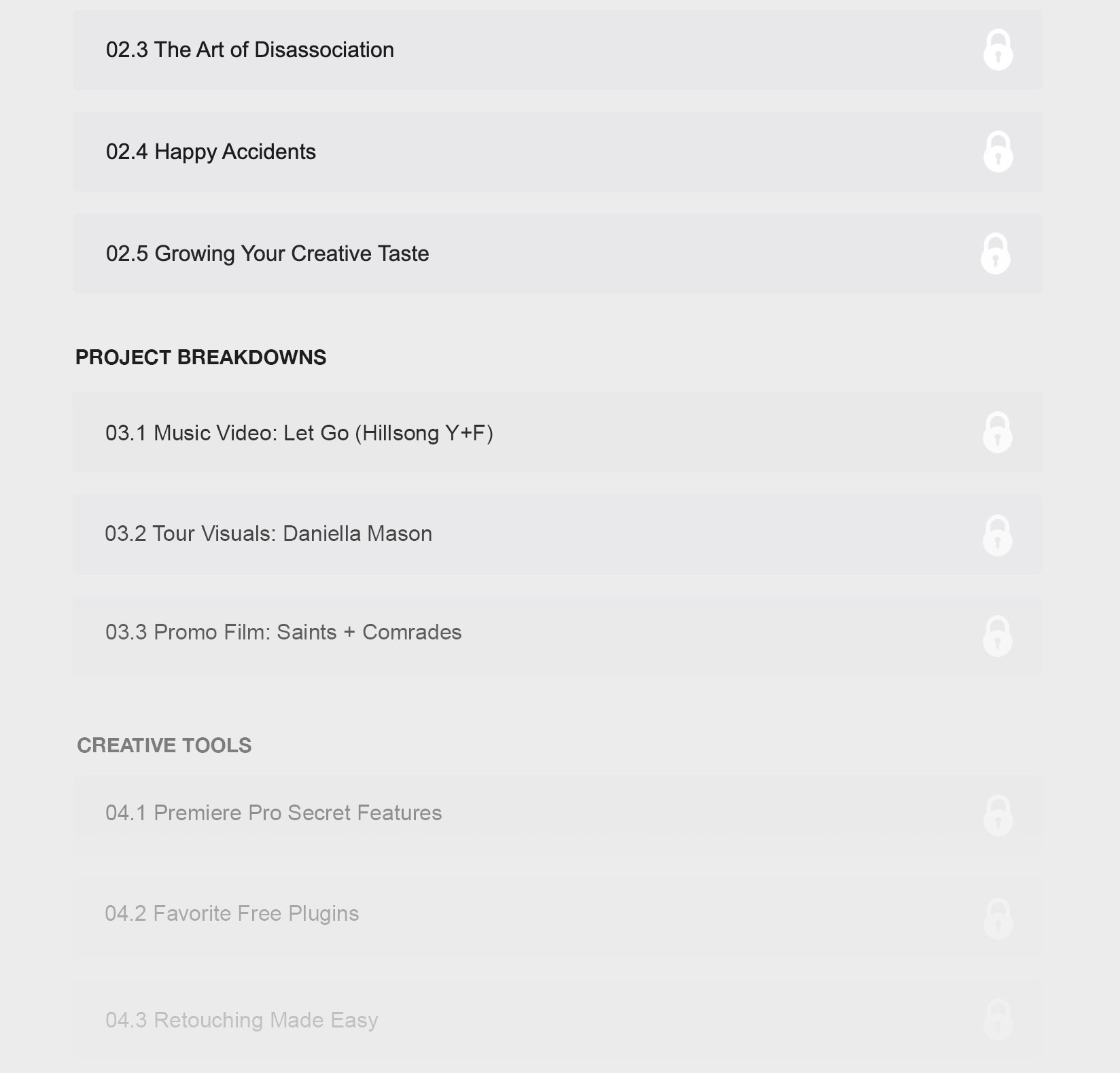 YOU'LL LEARN
+ Why You Should Stop Thinking Like an Editor
+ Growing Your Creative Taste
+ Balancing the Client, Craft, and Crowd
+ Case Studies: Edit Breakdowns
+ Premiere Pro Secret Features
+ Essential Keyboard Shortcuts
+ Top 11 Free Premiere Pro Effects
+ Best Fonts
+ VFX in Premiere Pro
+ Retouching in Premiere Pro
+ 3D Space + Lighting in After Effects
+ Advanced Analogue CRT Gear
+ Using Proxies to Edit Large Files
+ The Selects Method
+ Best Export Settings
+ How to Make 6 Figures as an Editor

AND MUCH MORE...
30 DAY MONEY-BACK GUARANTEE
You are gonna dig the Happy Editing membership. But just in case the unthinkable happens you can cancel within the first 30 days for a refund (details below).
ABOUT
YOUR INSTRUCTORS
With over 30 years combined experience, Ezra Cohen and the EZCO team are no strangers to the edit bay.
Clients include Sony, Ellie Goulding, Hillsong and more. Plus digital products used by Adidas, The Weeknd, Nike, Lincoln, Justin Bieber, Tik-Tok, and more.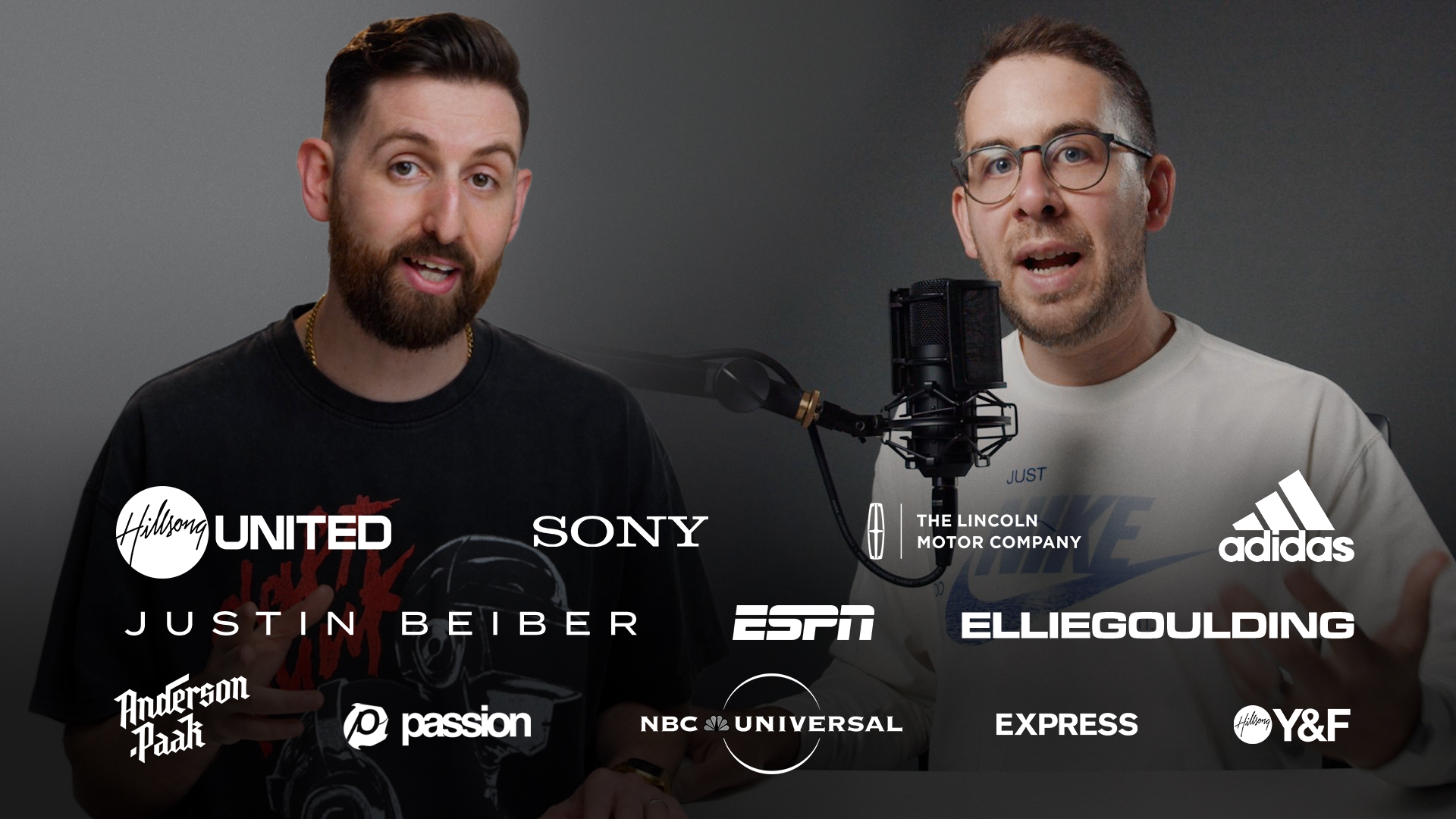 FAQ
Can't I just learn this stuff on Youtube for free?
Youtube can be great for helping you learn specific "how" tricks.
But it's only when you start to understand on the "WHY" of a great edit that things start to change. Happy Editing teaches you how to think like a creative director, attract larger clients, and charge more for your work.

(And save you hundreds of hours wasting time watching videos that get you nowhere)
Who is this course for?
If you're just getting started, you'll be learning the right way and save yourself from years of tiime-wasting mistakes.

And if you're already a pro, I can guarantee you'll walk away with valuable perspective shifts that will help you land bigger clients and work smarter, not just harder.
What software do I need?
Our weapons of choice are Adobe Premiere and After Effects. BUT the principles cover any and all editing softwares whether it be Davinci Resolve, Final Cut Pro, or anything else.
Feel free to follow along in any software you choose. You can download Davinci Resolve for free!
Who are the teachers?
With over 25 years combined experience, Ezra Cohen and Grant Fletcher are no strangers to the edit bay.
Clients include Sony, Ellie Goulding, Hillsong and more. Plus digital products used by Adidas, The Weeknd, Nike, Lincoln, and more.
Can I get feedback on my projects?
One of the most valuable parts of joining Happy Editing is the private community.
Students post their work on a regular basis and get real constructive feedback from Ezra and the EZCO team. You'll receive notes tailored specifically to your projects to help you learn in real time.