The Circles Conference has made quite a name for itself over the past 5 years, so when I ran into Ish Burciaga (the guy who runs Circles Co) at a coffee shop and he asked me to produce/direct the opener this year, I was thrilled. I knew pretty quickly what I wanted to do because there was actually a treatment I had developed previously that I was really hoping to work on at some point.
CONCEPT
The concept was a simple one really that came about when trying to brainstorm a concept for another project and experiencing severe writer's block. It tormented me until one little moment when all these ideas that seemed blurry and disconnected came together in my mind. I wanted to explore that moment a little more in this piece.
I love films that incorporate the surreal into the real. So I wanted to create almost a documentary-level realness on the front end with a super strong contrast of surrealism towards the end.
Practically speaking, I loved the production concept of incorporating malfunctioning practicals to add to the sense that something in the "real world" is changing. I had seen this Childish Gambino music video (watch at 02:54) with a similar effect and really wanted to try it on this piece.
Below is the treatment I sent to Ish.
---
He gave it the thumbs up, and on the phone that day we discussed 2 additional thoughts:
- The addition of a second location.
- The potential of a female lead.
So I got to work...
LOCATIONS
The first location came easy. A couple months before, I had seen this laundromat in a little town called Roanoke, TX one day after doing lunch with a friend. I fell in love immediately but just snapped a couple photos and filed it away for later use. So this was the time to break it out!
---
---
The second location wasn't too much of a challenge either thanks to the help of my friend and fellow filmmaker, Rob Martinez (amazing work - check him out). He's got a loft that's a great combo of minimalist and eclectic that I felt would work great.
---
---
CASTING
For casting, I wanted someone who could feel a little "grungier" while still being nice to look at for 2.5 minutes. I also didn't really want to work with too much of an "actor" and was hoping to just direct some more candid feeling moments. The hope for the character was that she would feel like an artist not necessarily "struggling" anymore but definitely trying to hit a new creative level and tight on a tight timeline. I had worked with Kati Fadlevich before, and It was an amazing experience. I had a feeling she would be able to play the part perfectly, so I gave her a call and we booked it!
---
---
CONCEPT EXPANSION NOTE
A cool moment happened a couple weeks before the shoot when Jillian (my wife, creative director, and in this case prop buyer and production designer) began sending me pictures of props she was finding at various thrift stores around town...
I realized that a ton of the props we had talked about were all either completely circular or had circular elements to them. Not a bad little subliminal thought to attach to the "Circles" conference... so we headed further this direction throughout the process.
PRODUCTION
Ok so cue production.
I've been really lucky to make friends with some of the most incredibly talented hidden gems of the film industry - one of them being Ben Joyner - an incredible DP that I worked with for a year at Musicbed. He did a really incredible job on set. And brought a poise and polish to the operation and the visuals that I never could have gotten elsewhere. He totally embraced the grungy, handheld vibe but took the lighting to the next level.
We shot for 2 days - each about 7 hours.
Day 1 we shot inserts and laundromat Day 2 we focused on the loft scene and tried to block out as much time for the practical effects as possible since that's something I had never really tried before. We had 1 flicker dimmer, but the rest of the lighting effects were just manual dimmer moves by all the guys who came out that night. Below are BTS iPhone shots from production (by Jefte Campos)
And for those interested in gear, we shot 4K on the Sony FS7 - almost entirely on the Sigma Art Series 18-35 f/1.8.
---
---
SHOTLIST
And below is a screenshot of my shot list for the night of the loft shoot. I wanted to be able to think sequentially and also get things out of the way as soon as I had shot them, so I used my favorite to-do list app, Wunderlist. I realize that this not at all a professional format for writing out a shot list, but it worked for me, and that's really all that matters. (Side note: If you've seen the final piece already, you'll notice that a few of these shots never made the cut - or we ended up going about them differently on set. But this was the plan I went in with.)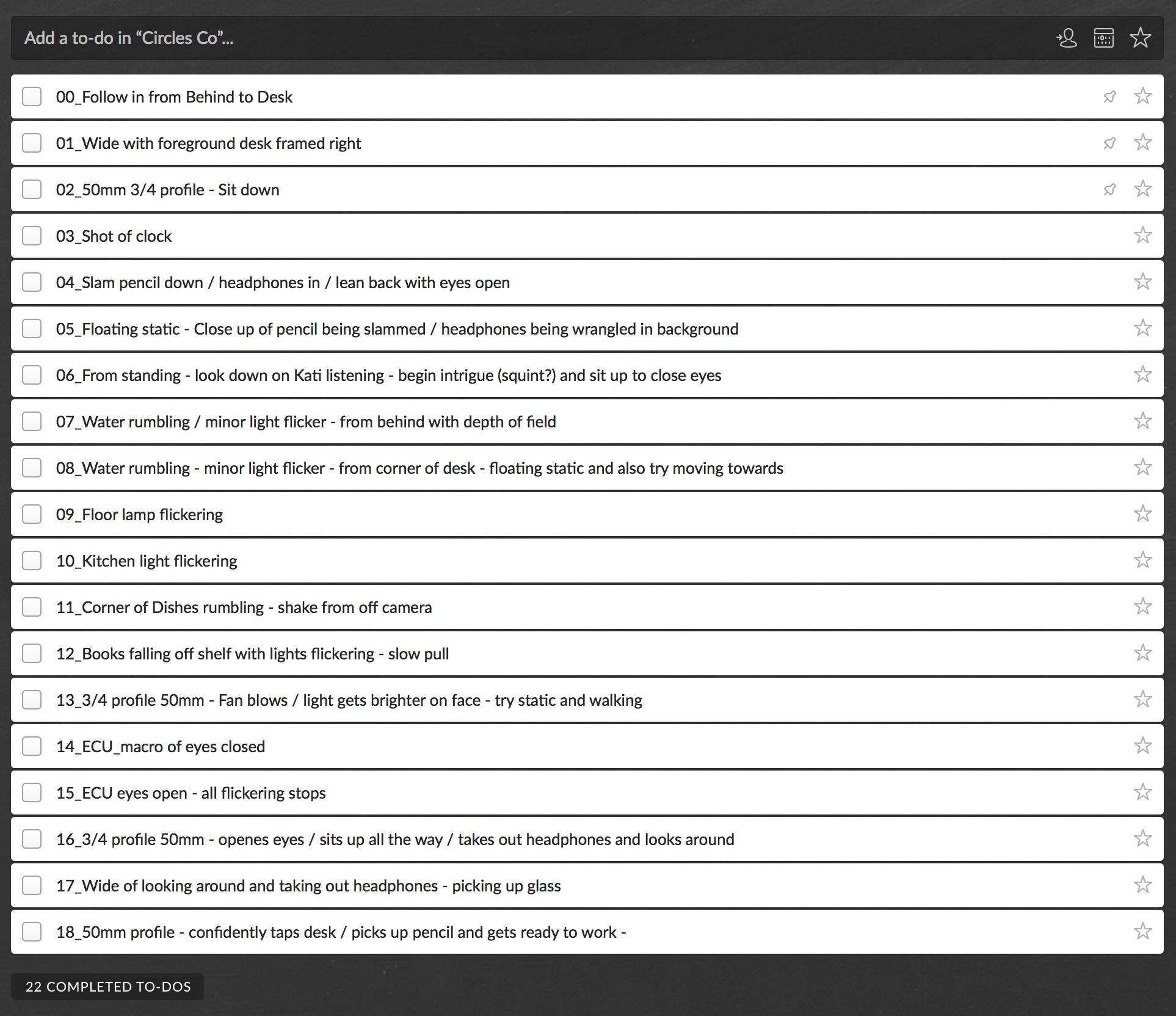 POST PRODUCTION
So going into the edit, I knew I wanted to be very intentional with the audio side of things. I'm so used to building edits around music - almost building my edits more like a music video. Which is great! But for this time around - especially with the thought of creating more of a hyper-real doc-style setup, I wanted to challenge myself to really create a world that existed without that. I wanted a really strong "dynamic range" so to speak... Very little action or sound or visual interest until the moment when everything clicks for our lead and the spark of inspiration finally hits.
So to start, I just laid in all the clips in the correct sequence and threw as much stock placeholder sound underneath to help me get a feel for the pacing of the edit. Then came the finessing and tweaking... trying to find anything that was feeling forced and getting rid of it or covering it up somehow. And along the way, I began coordinating with my good friend, Jonathan Mendoza, who created all the animation / graphic moments in the piece. He really helped bring the vision to life on this, and the animation elements really helped build the concept of another world and a spark of inspiration.
Music played a pretty minimal but fun part in the end. The funny thing is, we had shot this whole thing literally the night before "Stranger Things" arrived and blew all our minds. And to be honest, I was pissed... A couple episodes in, I started feeling insecure that maybe our practical effects would just be perceived as a ripoff since this piece would be playing in September. But I figured what the heck and just rolled with it. Something just felt right when that track laid in, and it stuck.

And of course none of this would have felt the same without the magical finishing touches from the guys who really polished this thing off.

John Carrington is one of my favorite guys to work with, and he totally crushed the grade on this as usual. Sound design was done by Ryan Monette. I sent the rough draft of the piece to my buddy Doug at one point and he said that Ryan could be the perfect fit for bringing the audio to life. And he really was. He completely understood what we were going for and brought a level of audience immersion to the piece that wouldn't have been possible otherwise.
So as a final note, I thought it would be cool to share this...
Below is a before and after. The first video is the picture locked cut I sent to client with no grade and my rough sound design.
And of course the final product below!
After all is said and done, this was an absolute blast to work on, and I hope I get to do more stuff like this in the future.
If you've made it this far, thanks for reading! :)